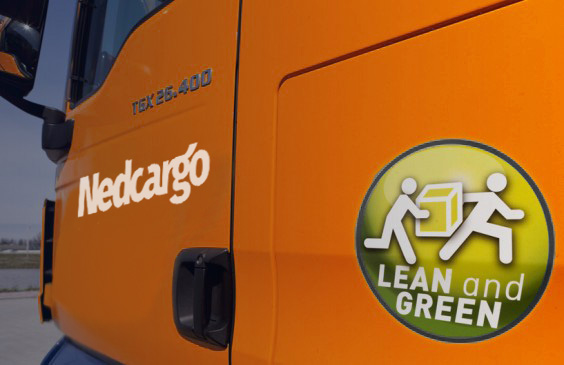 Lean and Green
We offer sustainable transport:
We will be reducing our CO2emissions by more than 20% in 5 years!
We are doing this on the basis of concrete objectives!
Nedcargo Logistics was presented with a Lean & Green Award in 2010.
Lean & Green is a programme of incentives to promote sustainable logistics. The programme is being implemented by Stichting Connekt on behalf of the Dutch government. The granting of an award takes place on the basis of a five-year plan in which a company has set out concrete objectives for reducing CO2 emissions.
As the leader in this programme, Nedcargo Logistics has committed itself to a CO2 reduction of more than 20% in five years. How are we going to achieve this?
We will reduce the number of road miles by:

multi-client warehouses, which will serve several customers that supply the same clients. This makes combined transport possible.
deployment of and better loading of extra-long, extra-heavy trucks (LZVs).
fewer stops during every milk run.
The use of dual-fuel trucks and alternative fuels.
The interim results have been positive so far. Reducing the number of stops per milk run, for example, resulted in a 6.9% CO2 reduction in 2012.
---